WVUE Studio Tour 2
I'm going to start with an apology. I didn't take enough pictures! The things Lewis and Richard had to say were so fascinating I kept forgetting to take pictures! Usually I'm snapping away like a maniac.

Anyway, we entered into a vast two story empty cave of a room. This room was once the news studio and other studio space for the station. After Katrina, Emmis stripped the room to the bare walls, even removing the utility lighting, along with the studio lighting and everything else. So, now it's a huge two story room, without even any lights!!

The room is being converted to a production studio for WVUE's sister company, Horizon Entertainment (also owned by Benson). They have, in fact, set up temporary sets and lighting in the room for a few productions already.

Next we went upstairs through the electrical room. The electrical room is on the second floor to avoid flooding. It was on the first floor prior to Katrina. This photo is of a whole-building UPS. In the event of a power failure, this UPS takes the entire electrical load of the building for the minute or so that it takes the generator to crank up, then, everything switches over to the generator. This is the same sort of system used in hospitals.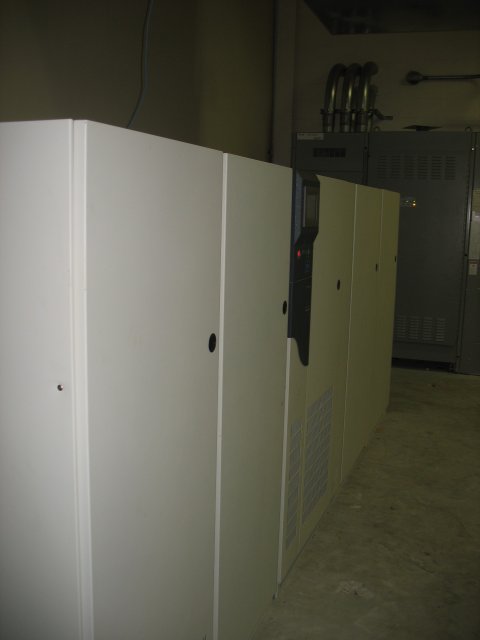 On the way to the next room, we walked through a catwalk, of sorts, and I snapped this pic, looking down into the Weather Center.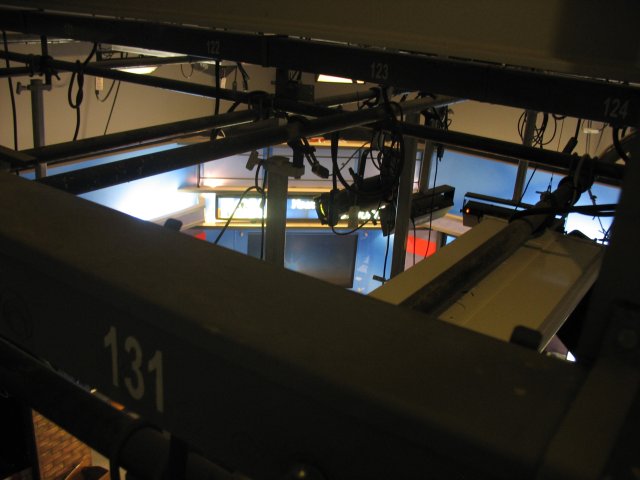 Next stop. The news / production control room. Note that the monitors are a matrix of flat screen monitors, many of which have 4 images on them. The row of screens across the top has all the competing full power stations in New Orleans on them. Other screens contain competing cable channels like CNN, The Weather Channel, etc. Of course, the majority of the screens are of various images that will be switched into WVUE's broadcast!