The WVUE/WYES Tower Site
Specs on WVUE's Channel 8 tower:
Height: 318.8 meters
Height above sea level: 319.7 meters
Location: 29° 57' 14.00" N Latitude 89° 56' 58.00" W Longitude
ASRN#: 1022410
Specs on the WYES/WVUE-on-29 tower:
Height: 318.8 meters
Height above sea level: 319.7 meters
Location: 29° 57' 13.27" N Latitude 89° 56' 57.76" W Longitude
ASRN#: 1022409
Note: As a temporary experimental measure, WVUE is simulcasting the same content on both channels 8 and 29. A little more on this below.
Specs on WVUE-on-8:
Display Channel: 8
Digital Channel: 8
Affiliation: Fox
Owner: Louisiana Media Company LLC
Power: 14.6 kW
HAAT: 990' (302m)
AGL: 987' (301m)

Specs on WVUE-on-29:
Display Channel: 8
Digital Channel: 29
Affiliation: Fox
Owner: Louisiana Media Company LLC
Power: 660 kW
HAAT: 898' (274m)
AGL: 898' (274m)

Specs on WYES:
Display Channel: 12
Digital Channel: 11
Affiliation: PBS
Owner: The Greater New Orleans Educational Television Foundation
Power: 104 kW
HAAT: 1003' (306m)
AGL: 1002' (307m)

This site is owned by WVUE (Louisiana Media Company) and space is leased to WYES.
As you can see in the first picture, the two equipment buildings were well designed for Hurricane Resistance and faired well in Hurricane Katrina. I understand that they had about an inch of water on the floor at the peak of the flood, and no equipment was significantly damaged. I'd rank this as "skin of the teeth". This puts WVUE and WYES ahead of the curve in this respect as far as New Orleans TV and radio stations are concerned. Historically, the building on the right originally housed all the WVUE and WYES equipment. Later, the building on the left was built and housed the WVUE equipment while the WYES equipment remained in the building on the right. Still more recently, all the equipment for both stations ended up in the building on the right (the one on the left, being slowly decommissioned largely by attrition).
Here is the base of the tower and equipment buildings.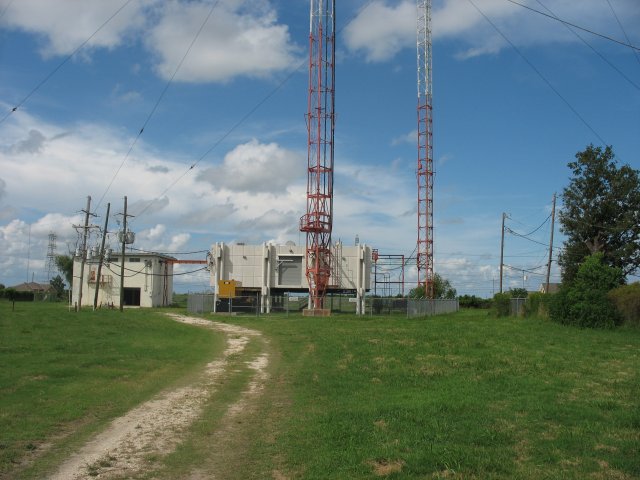 As promised, guy wires passing over the roofs of residences!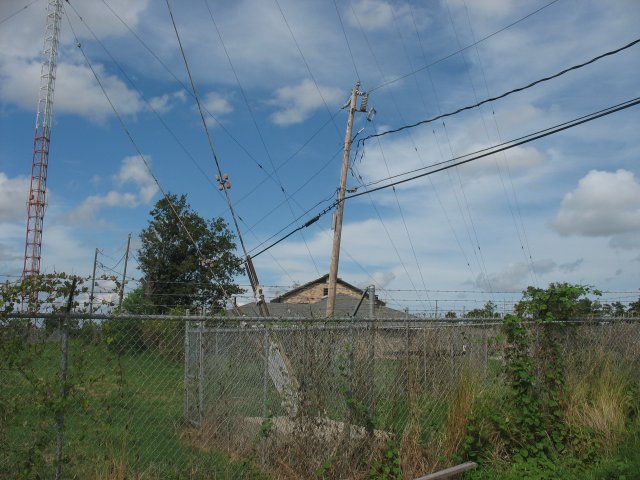 And, the closest guy anchor to a residence I have ever seen. That's the WDSU tower that you see in the background: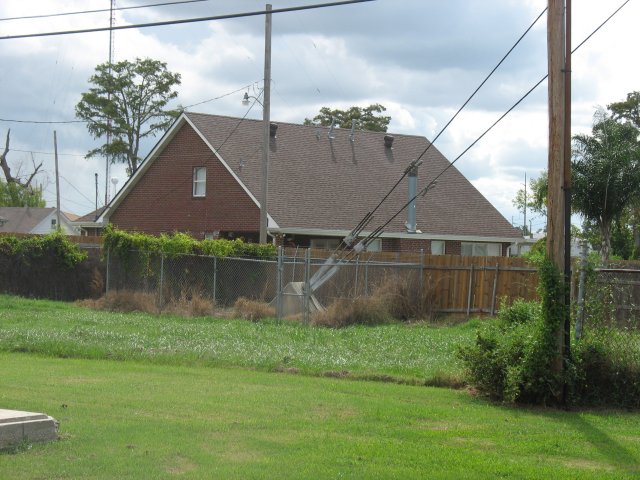 The top of the towers. WVUE is currently transmitting on channels 8 and 29 simultaneously. 8 has been problematic for reception. WVUE plans, pending FCC approval, to drop 8 and put a top mount channel 29 antenna on the tower on the right in this picture. Currently, the tower on the left holds WYES's channel 11 batwing antenna. This antenna carried both 11 digital and 12 analog before the digital transition date. Also on the left tower is WVUE's channel 29 side mount. The tower on the right carries the channel 8 antenna, used for analog channel 8, and now digital channel 8.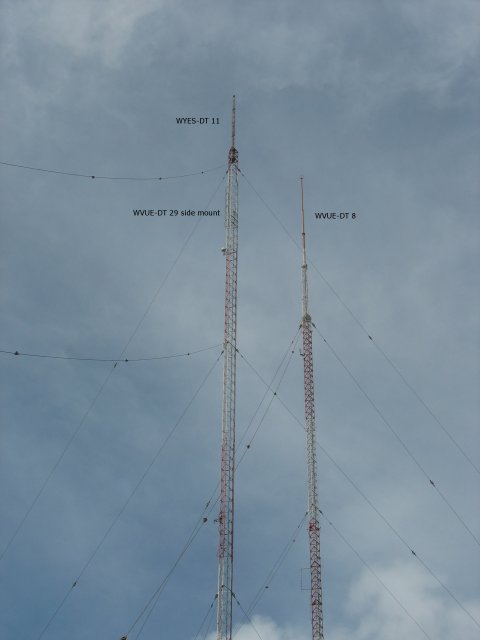 Finally, a longer shot, looking up the towers.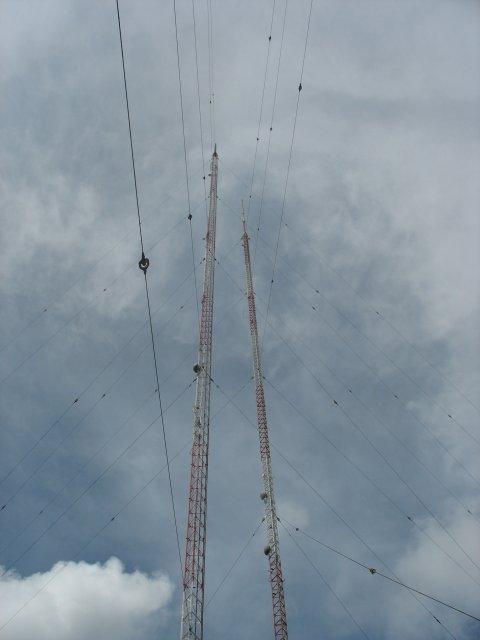 Also, check out my tour of the WVUE studios.